About Us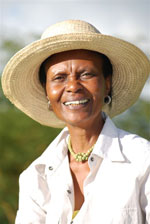 Dea's Gardens was founded in 2010, 2 years after Dea found herself widowed with a farm to run. The farm was closed and the family home was turned into a guest house.
Dea is from Tanzania and her husband Hans was from Switzerland. They met in Tanzania and had three children, now grown up with their own children to look after. Dea's daughter Lisa and her son Gael live in Nairobi and are often in Naivasha for weekend visits. The other two children, Patrick and Marianne are currently in Lausanne, Switzerland with their families and visit often.
When Tanzania nationalised, the little family moved to Kenya where they set base, and after 8 years bought this lovely property of 10 acres on the shores of Lake Naivasha. Hans and Dea decided to put their roots down and promptly built a Swiss bernese barn house as the family home. The guest cottages that were built later took on a swahili rundavell form which combined the two cultures.